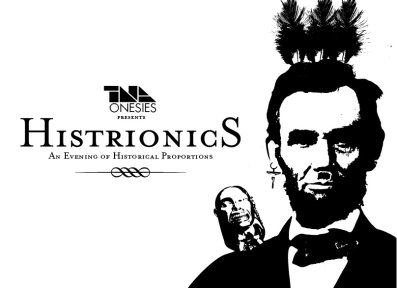 HISTRIONICS
Synopsis
The Next Arena presents its annual comedy one-acts festival TNA Onesies. This year, in a special fall slot to celebrate this historical election, the event is entitled, "HISTRIONICS". Ever wondered what happened backstage at Lincoln's assassination? What really really went down at the first Thanksgiving? And just how accurate is the anthropology of Indiana Jones, anyway? Those and other pressing questions will be answered in this ridiculous evening of 5 short one-acts (with 3 world premieres!). Join us on a hilarious trip back in time and see what we humans have learned from the past…if anything.
SHOW INFO
2008 Opening Night Gala: Friday, November 7th, 2008
November 8th, 13 - 15th, 20 - 22nd, 28 - 30th, 2008 at 8 PM
The Lounge Theatre, 6201 Santa Monica Blvd, Hollywood, CA 90038
$40 Opening Night Gala Admission
$18 General Admission ($15 with TNA Season Pass)

For Reservations and Group Ticket Sales, Call 323-805-9355

The One-Acts
"Laura Keene Goes On" written by Michael McKeever and directed by Dennis Gersten
It's backstage at Ford's Theatre the night of Lincoln's assassination and Laura Keene is about to take the stage when John Wilkes Booth strikes the fatal blow. But Laura, being the consummate performer, insists she must go on, much to the annoyance of her assistant and the stage manager. "The show goes on. The show always go on!" Especially since hack actor Booth has upstaged her entrance.

"Sticks & Stones" written and directed by Ken Brisbois
Paul and Eddie got themselves in a jam when they got caught in a botched robbery somewhere near Galilee, and are now hanging to their death on crosses. Not only do they have to deal with the Romans and their obsessions with drums, but a new prisoner has recently been brought and he has quite a crowd with him. Eddie is none too pleased with this hotshot.

"A D-Day at the Beach" written by Sean Presant and directed by Scott Rognlien
The peaceful seaside holiday of Sheryl and Lloyd Withers is interrupted by a spot of bother: World War II.

"Primitive Peoples" written by Owen Hammer and directed by Bann Roy
Emperor Moctehuatl is trying to get his temple finished before the open house next Monday but is having trouble convincing his contractor, Farhut, that he needs more traps. He's trying to protect his treasurers from the marauding Europeans and turns to his soothsayer and a celestial friend for guidance. Indiana Jones revisionist history at its most hilarious.

"More White Meat" written by Maggie Bandur and directed by Stuart Meltzer
The Plymouth pilgrims sit down to their first Thanksgiving and host the noble savage Squanto at their table. They seek to communicate with him, but there's a problem: he already speaks English. Fluently. The great myth of the first Thanksgiving is at stake as the pilgrims try to convince Squanto to help them spin their future history.



The Cast
Leigh Goodoff, Leondra King, Matt Taylor, Scott Rognlien, Jean-Michel Richaud, Rob Smith, Jason Frost, Maia Peters, Ali Khan, Isabelle Dahlin, Victoria Lane and Steve Hamill


The Crew
Producers: Scott Rognlien and Ken Brisbois
Executive Producer: Eric Normington
Stage Manager: Amanda Peterson
Costume Designer: Barrie Rosen
Assistant Costume Designer: Samantha Baker
Lighting Designer: Annie Terry
Set Designer: Aaron Lyons


Listen to Matt Taylor and Tim Koch's The History Song from TNA Onesies: Histrionics.