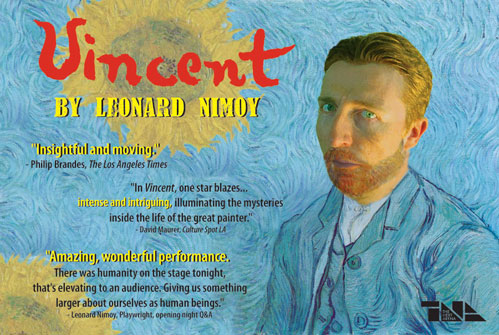 The Next Arena and Mistral Productions Presents
Vincent

By
Leonard Nimoy


Starring
Jean Michel-Richaud
Synopsis
An Exhilarating look into the mind of a misunderstood genius.

A few days after the death of little known painter Vincent Van Gogh,rumors are flying in Paris. Some say he was a penniless madman, a frequenter of prostitutes, a derelict and soon to be forgotten artist of trifling quality. Others denounce him as a wayward priest and unwelcome foreigner. Many whisper he took his own life in a moment of insanity. His brother Theo, Vincent's confidante and lifelong supporter, is enraged. Tonight, he hopes to set the record straight.
SHOW INFO
Where: VS Theatre 5453 W Pico Blvd. LA, CA 90016
When: Sunday at 6pm
Running Time: 70 Min
Admission: $20 General Admission

The Cast
Jean-Michel Richaud

Creative/Production Team
Director: Paul Stein
Stage Manager:Tommy Dunn
Lighting Design: Steve Pope
Publicist: Nora Feldman
Press & Reviews
"Insightful and moving." - Phillip Brandes, Los Angeles Times

Click Here for Full Review!

"Intense and intriguing, illuminating the mysteries inside the life of the great painter."
David Maurer, Culture Spot LA

Click Here for Full Review!
"Richaud beautifully calibrates his performance." - Dany Margolies

Click Here for Full Review!

"Amazing, wonderful performance." Leonard Nimoy, Playwright Opening Night Q&A