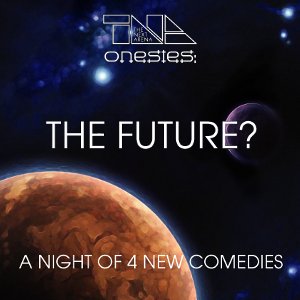 TNA Onesies: The Future?
The Next Arena (TNA) cordially invites you to blast into the future at TNA Onesies: The Future?, an evening of original one acts performed at The Lounge Theater, beginning April 24th.
The Next Arena brings you their fourth annual comedy one act festival, TNA Onesies: this time itís a satirical look into our possible future, and the bumbling buffoons who have made it so. The Future? is a companion piece to 2008ís TNA Onesies, titled Histrionics, which took us on a wild romp through our lesser known history. All works performed in TNA Onesies: The Future? are world premiere presentations, or rather, they will beÖ
Synopsis
An auto mechanic sees his future and isn't pleased; a college professor has discovered the true impetus behind all technological advancement; a waitress eager to leave a martian bar is interrupted by a pair of cynical quadrillionaires; and a prophetic vision of a post-apocalyptic family living a 1000 years in the future, existing entirely on mud (and sick of it)
SHOW INFO
Where: The Lounge Theatre, 6201 Santa Monica Blvd, Hollywood, CA 90038
When: Preview on Thursday April, 23rd, 2009; Opens on Friday, April 24th, 2009 and runs through Saturday, May 23rd, 2009
Showtimes: Thursday, Friday and Saturday at 8pm
Admission: Thursdays 'Pay-what-you-can"; Fridays and Saturdays $18

Reservations: Call (323) 960-5774 or visit www.plays411.com/thefuture.

The Writers
Owen Hammer, Joel Watson, Matt Taylor, Brad Stevens, Jason Frost and Craig Zimmerman
The Director
The Cast
Michael Cornacchia, Leigh Goodoff, Summer Herrick, Kim Shannon, Matt Taylor, and Craig Zimmerman

The Crew
Stage Manager: Sarah Templeton
Costumes and Props: Leigh Goodoff
Light and Sound Design: Matt Richter
Scenic Artist: Taylor Coffman
Graphic Design: Kiff Scholl
Webmaster: Matt Griffith
Producers: Jason Frost and Leigh Goodoff