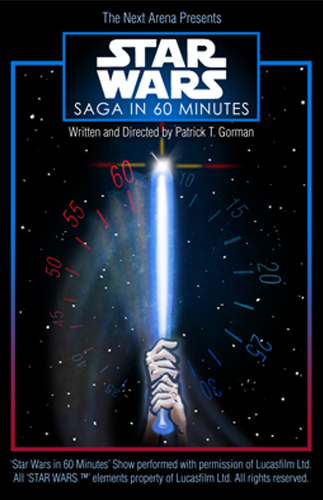 The Next Arena presents a limited engagement of
Star Wars in 60 Minutes
Synopsis
Expanded from the wildly popular, critically-acclaimed comedy STAR WARS TRILOGY IN 30 MINUTES, this production now includes for the very first time all six episodes of the epic Star Wars saga.

George Lucas caled STAR WARS IN 30 MINUTES "extremely funny", the Los Angeles Times said it recalled "the glory days of Second City, if not the earlier funny episodes of Saturday Night Live", and Variety declared it a "smash hit" and "unflailingly imaginative!"
SHOW INFO
Where: KL Peters Auditorium, 241 Moreno Drive, Beverly Hills, CA 90212
When: Friday and Saturday nights at 8PM, Sunday matinees at 2pm!
Running Time: 60 Min
Admission: $20 General Admission, $12 Kids
Links: www.starwars60.com
The Cast
Bailey Chadwick, Michael Cornacchia, Leigh Goodoff, Patrick T. Gorman, Summer Herrick Stevens, Mark Kelly, James Mathis III, Megahn Perry, Maia Peters, JR Reed, Mark Reilly, Scott Rognlien, Paul Stanko.

Creative/Production Team
Playwright & Director: Patrick T. Gorman
Producers: Maia Peters and Leigh Goodoff
Stage Manager: Benjamin Durham
Sound Engineers: Zoe Fish & Seth Presant
Press & Reviews
"…you gotta be there in person to take in the awesome. I left there with a sore jaw from laughing so hard." - geeknation.com

Click Here for Full Review!

(From Celebration VI performance in Orlando) "…it works on a level I can't truly begin to describe….an impeccably talented group, and watching them perform was not only a laugh a minute, it was truly inspiring and a heartfelt love letter to the Star Wars Universe, its fans, and its creators."
- underscoopfire.com

Click Here for Full Review!