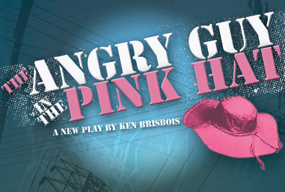 THE ANGRY GUY IN THE PINK HAT
Synopsis
The Next Arena's fall show for 2006 was a world premiere production written by TNA member Ken Brisbois. It's Sam Shepard does It's a Wonderful Life in this funny, dark and surreal play about the destructive power of anger.
Schedule
SHOW INFO
When: Nov - Dec 2006
Where: Two Roads Theatre, 4348 Tujunga Avenue, Studio City, CA 91604
(World Premiere)
Running Time: 110 Min.
The Cast
Michael Cornacchia as SHERIFF BRUMBY
Jacques Freydont as JOE
Jason Frost as DUKE
Kristina Hayes as SALLY
Rebecca Lincoln as LADY
Jean-Michel Richaud as THE PINK HAT
Andrew Wollman as GEORGE


The Crew
Written by Ken Brisbois
Directed by Scott Rognlien
Produced by Seth Macari
Assistant Director - Leigh Goodoff
Light & Sound Director - Annie Terry
Set Designer - Kurtis Bedford
Set Designer - Jaclyn Presant
Stage Manager/Board Operator - Adam Green
Board Operator - Maia Peters
Graphic Designer - Rick Robbins

Press & Reviews

"RECOMMENDED... Often hysterical and sometimes brilliant...destined for a furious cult following"
- Los Angeles Times

"smart, crude, obscure, verbal, highly visual, shocking, ugly-funny…Director Scott Rognlien manages the real and the surreal with high humor and a keen overview of aural and visual clarity, a rare pleasure."
- LA Weekly