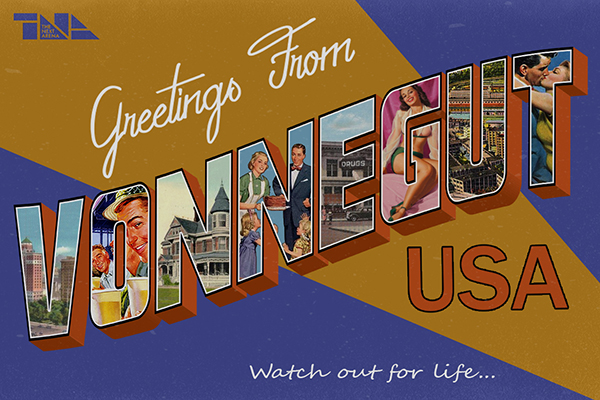 The Next Arena (TNA) presents the World Premiere production of Vonnegut, USA, an adaptation of five Kurt Vonnegut short stories by TNA's artistic director, Scott Rognlien.

Sometime just north of the midway point of the last century and somewhere in the northeastern region of America, there's great change in the air. In the city of Ilium, the Federal Forge & Foundry's headquarters is teeming with excitement as a new vice president arrives on the scene. Meanwhile, in the nearby town of Spruce Falls, this important executive has rented a home and the locals are thrilled with what this great industrialist could do for their little town. Well, maybe not all of them...

These two very different locations are inhabited with hilarious, colorful characters of all shapes and sizes from the American mid-century landscape. They share their stories with each other and with the audience in this "narrative anthology" of simple human tales that highlight the triumphs and pitfalls of progress as it storms across the country during its post-war industrial boom.

The incomparable voice of Kurt Vonnegut brings this world to life. This adaptation is extremely true to the original text so as not to sacrifice his unique storytelling style.
Atwater Village Theatre
3269 Casitas Avenue, Los Angeles, CA 90039

Fridays and Saturdays: at 8PM,
Sundays: at 2pm
Runs: October 14 through November 20
Previews: October 12 & 13th
$20 general admission
$30 Opening night gala
"pay what you can" Sunday Matinees



Cast
Rob Beddall
Keith Blaney
Jason Frost
Marjorie LeWit
Carryl Lynn
Darren Mangler
Paul Nieman
Eric Normington
Maia Peters
Paul Plunkett
JR Reed
Rob Smith
Matt Taylor

Creative/Production Team

Adaptor/Director
Scott Rognlien

Producers
JR Reed & Scott Rognlien

Lighting and Projection Designer
Kate Leahy

Set Designer
Britanny Blouch

Costume Designer
Kimberly Freed

Stage Manager
Becky Hefferman
Checkout this interview with Vonnegut, USA
adaptor/director, Scott Rognlien

Click here for interview

The Next Arena is a nonprofit theater company based in Los Angeles.